It's National Customer Service Week!
Providing excellent customer service is something to strive for year round, but this week is an opportunity to celebrate the importance of customer service as well as the people who support our customers on a daily basis.
To kickoff the week we would like to recognize Marco Trigueros! If you haven't had the opportunity to work with Marco, he is an Analytics Advisor in Customer Success, working with Transportation clients across the country. We sat down with him to pick his brain on why he loves his job and his philosophy on helping customers succeed.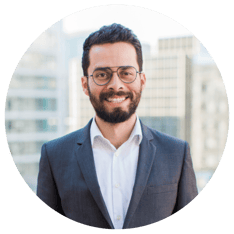 Your position is unique because you have a specific set of engineering and analytical skills that you need to adapt and apply to many different types of customers. What do you love about your job and why is it important?

One thing I love about my job is the opportunity to learn from our customers. Each customer is doing something different, and it's exciting to be a part of it. Collaboration is key in the transportation industry so when I see a customer do something cool, I'm always eager to highlight that and share it among other customers in similar situations. I know I don't have all the answers, but I work with great people across the country who are happy to share their expertise!


One customer said "Marco did a great job of engaging with hands on activities to better understand and apply our use cases." How do you engage customers so they gain understanding and become more knowledgeable themselves?

I always like to nudge our customers towards taking the reins early on in the process. I want them to feel comfortable so that they can own and really take control of their decision-making process. We're always there to train them, guide them, and provide recommendations, but ultimately, they are the ones that are the most qualified to make those important decisions. They know what's best for their agency and their public, and I want to empower them to be able to do their best work.


We often come into high stress situations where our customers have to meet tight deadlines. How do you reassure them and help them meet their goals?

I've been told I have a calming presence, I think due to the fact that I've seen many other customers go down the same path. So I'm confident they'll be successful, too. I've noticed that as I guide them through the process and show them how it will work for them, I can see their stress levels go down.


What is your own unique customer service philosophy?

My goal is to make our customer's job easier and empower them to do it better. I am a problem solver at heart and love to work through whatever challenges and constraints pop up in the process. I like to be as flexible as possible, and look at every situation as a chance to learn something new.
Final Thoughts


One of the important themes that came out of our interview with Marco was that what we do for our customers matters, but the way we do it matters just as much if not more. Marco's calm demeanor in high stress situations, his ability to help customers take the reins early and often, and his listening ear all play a pivotal role in helping them to achieve excellence in the way they use our solution to make important decisions for their organization.
The result? A ripple effect that extends from Marco to our customers, and from them to their customers, colleagues, and constituents in an ever-expanding circle.