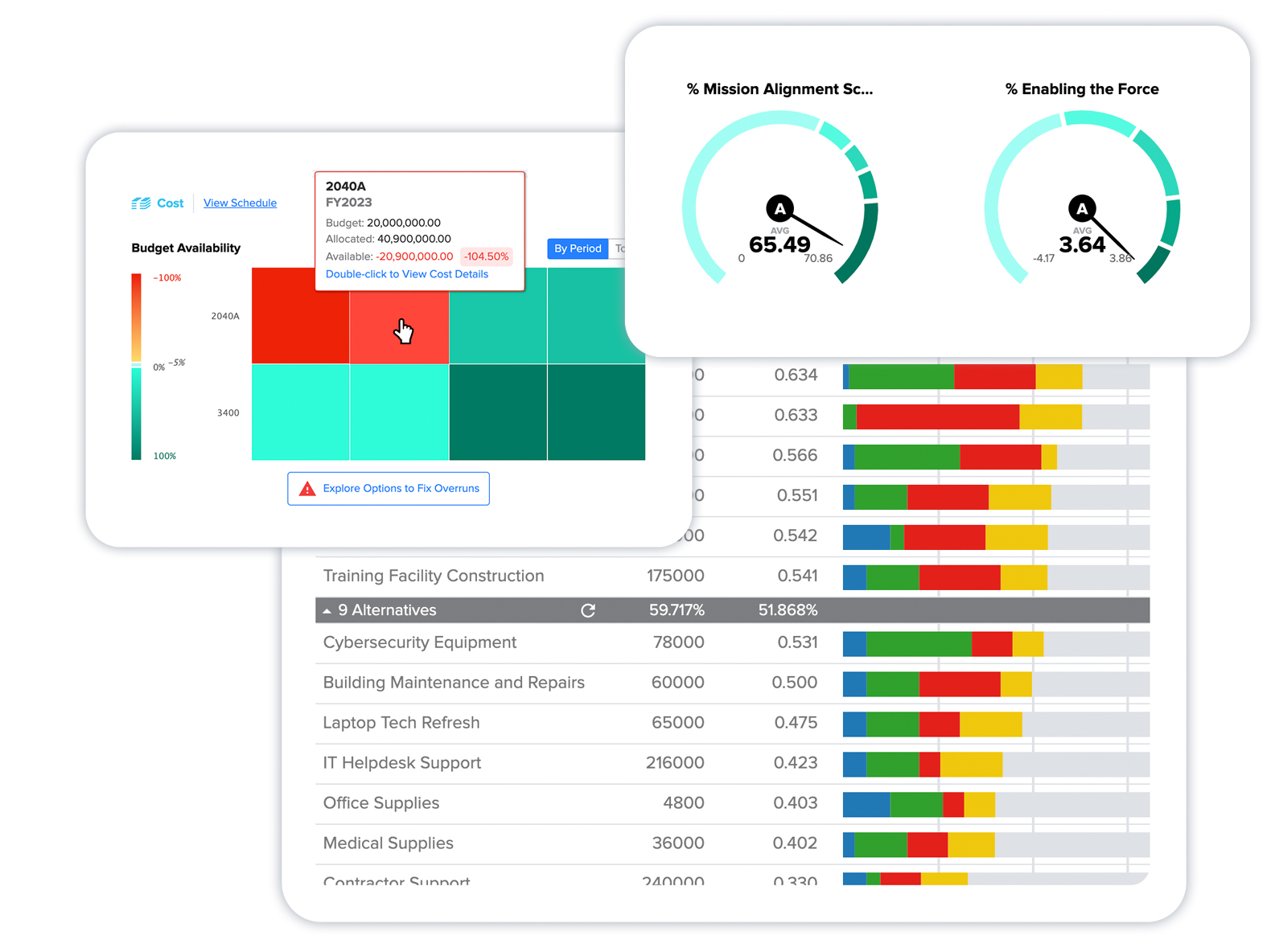 Revolutionizing Public Sector Decision Making
Modernize your organization with Decision Lens to achieve superior long-term planning, continuous mid-range prioritization, and short-range funding execution. The result is a sustained competitive advantage created by using your limited resources most effectively both now and in the future to ensure the best possible outcome.
We have been modernizing public sector planning for 15+ years, evolving our solution to meet the needs of today while delivering the cutting-edge capabilities of tomorrow.
The Integrated Planning Platform
Decision Lens provides the ultimate operational advantage to organizations. Here are just some of the capabilities modernizing the public sector.
Powerful Intake Engine
Industry-Best Prioritization Framework
Dynamic Collaborative Scoring
Force Multiplier Scenario Planning
Budget Planning & Execution
Deliver Today, Plan for Tomorrow
Decision Lens is on a mission to revolutionize the decision making required for great achievement. Leveraging our unique expertise in decision science, agencies achieve sustained advantages through superior long-term planning, continuous medium-term prioritization, and short-term funding execution.
Short-Range
Financial managers constantly struggle with formulating a defensible, mission-aligned budget. Decision Lens modernizes short range execution to help overcome these challenges.
Budget Formulation
Spend Plan Creation & Tracking
Unfunded Requirement Prioritization
Mid-Range
Programmers and planners must balance future transformational investments with near-term financial constraints. Decision Lens is a critical tool for:
Mission Prioritization
Issue Data Management
Scenario Comparison & Visualization
POM 5 Year Plan Building
Long-Range
It is not easy to prepare for an uncertain future. Stay ahead of new threats and maximize emerging opportunities, with better:
Capability Gap Data Management, Analysis, Prioritization
Capability Assessment by Warfighting Scenario
Long Range Road Mapping
A Better Approach
By connecting time horizons, departments and roles Decision Lens transforms how organizations plan, execute, and track success.
Ruthlessly prioritize the most valuable programs to guarantee optimal spending and resource allocation
Gain unparalleled visibility and control of the planning process across time horizons, your enterprise, and adjacent departments.
Guarantee business continuity, eliminate downtime and act swiftly with access to Decision Lens anywhere your staff may be.
Public Sector Focused
We develop government-grade software to meet the unique needs of the public sector
Committed to Customer Success
Each customer has a dedicated, experienced team expert in helping government organizations digitally transform
Part of your Ecosystem
Fortify your existing workflow with a streamlined approach which eliminates manual tasks resulting in a faster, more defensible process
More than Software
Decision Lens provides the combination of people, process and technology required to modernize government agencies for future readiness
The Decision Lens software is the only software that can provide three distinct features resident within one integrated software solution, which are data management, data analytics and data visualization
US Army
Support mission requirements prioritization and financial management
US Air Force
Automate their POM Planning process
Texas Department of Transportation
UTP and STIP performance-based planning from Central Office, to Districts and MPOs
National Park Service
Prioritization of contaminated sites for cleanup
Let's get started
We have been modernizing public sector planning for 15+ years, evolving our solution to meet the needs of today while delivering the cutting-edge capabilities of tomorrow.