In 2021, we set out to make Decision Lens easier to use, more powerful, and to expand our financial management capabilities. We are proud to report that as we begin the new year, our software is better able to modernize how government prioritizes, plans, and funds. Our most substantive updates included foundational improvements delivering an improved user experience, gap closures based on customer feedback, and an array of new capabilities.
Below are highlights of the exciting changes and a sneak peek of our roadmap for 2022.
Closing Key Capability Gaps in the Software
Spend Plan
In 2021, Decision Lens added an entire new capability for creating a Spend Plan to track Planned and Obligated actual amounts against final approved budgets. The new Spend Plan feature helps our users transition from budget planning to execution providing an ability to instantaneously pivot when off plan by making rapid, informed decisions for a get-well plan based on prioritization data. The Spend Plan also provides powerful visualizations to be able to graphically communicate progress.
Admin Console
Our new Admin Console provides Group Administrators with more granular visibility into customer portfolios. Administrators can now analyze how their organizations are using Decision Lens.
Advanced Budgeting

We introduced a dedicated Manage Portfolio Budgets page and added the ability to include dedicated Budget metadata. This allows owners to add and manage additional Category, Numeric, and Text-based Fields to Budgets. The result is more detailed data collection and portfolio analysis, ultimately leading to improved decision making.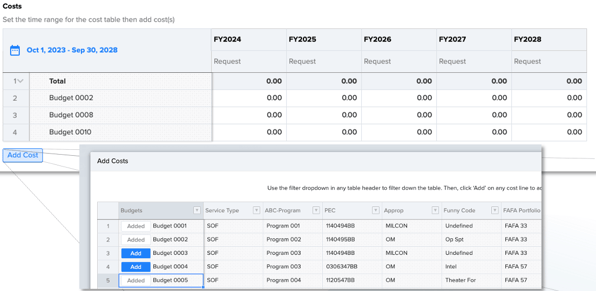 Another feature added to Advanced Budgeting was updates to the Project Planning Window and Cost Table. The Project/Intake Engine Cost Tables have been streamlined. Users can now set a Cost Planning window to request Budgets for a given project and set the Planning window for all contributors.
Improving the User Experience for Current Capabilities
Column Settings
Customer portfolios often have a significant number of fields, which can create visual clutter and make data management cumbersome. Users can now adjust column settings options to hide/show fields, so that they only see the data that is relevant to what they are currently working on.
Filter Indicators/Management
All pages of our software have been updated with indicators on all pages so you'll always know when a filter is in place and have quick access to reset back to default views.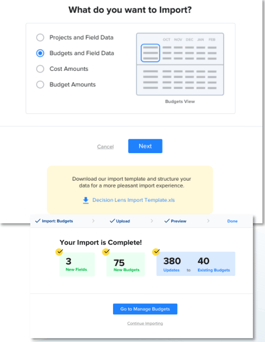 Import Enhancements
We have added import tools for Cost and Budget Data imports to support the new Advanced Budgeting Fields. We've also developed new import wizards for all major data sets including Budgets, Requests, and Spend Plan information along with process improvements including import templates.
Export Enhancements
Having the correct report information at the ready is vital for our customers to present good information to leadership or to perform external analytics so that they can make the best decisions. We have created additional export options that reflect filtered subsets of data allowing all pages to be export all or for exporting Filtered Data sets.
Project Details Navigation

When users have many projects to work with within a portfolio it is important to be able to move between projects easily. To assist with Review and Presentation, we have added navigation toggles to the Details View to enable users to move backwards and forwards between projects while maintaining filters and sort orders.
A look ahead at 2022: Scoring
We have added Scoring to our software to allow you to easily assess your portfolio Value priorities. Users can expose the score for different projects and set scales for Numeric Fields. This year we will continue to add to and build upon this feature with Category (Qualitative) ratings, Custom Weighting, and Scoring visualizations.
We at Decision Lens are incredibly proud of the work our product team has done to bring 30 total releases to production in 2021 and provide our customers with world class integrated planning software. We look forward to delivering advanced features and capabilities in 2022 allowing government to continue its digital transformation.
Get a deeper dive into how our software can support your efforts
View our on demand Q1 Product Talks 2022 to learn more about our new features and how to use them. We'll also give you a sneak peak of what's on our 2022 roadmap.
https://www.decisionlens.com/q1-product-talks-download-recording-request