Contributed by Michael Rahm
Spring is finally upon us! Flowers are blooming, birds are chirping, mobile devices are being used for ratings. Wait, what? Mobile devices and ratings together? That's right Decision Lens users, the Spring 2016 Release is ALL about your mobile ratings experience.
We know your time is valuable and you want to use every moment to be productive. Mobile ratings for Decision Lens works seamlessly with your busy schedule ensuring you have the ability to complete ratings tasks any time you choose. Now, when you receive a task notification email for ratings and select that task from your iOS or Android mobile device, you will be taken to a beautiful and easy to navigate mobile experience.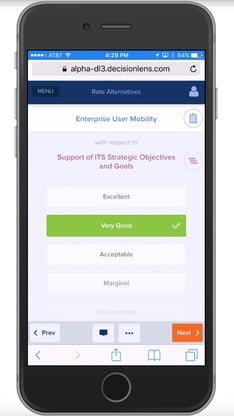 Watch this short DLU video to help get you started. You can also check out the Decision Lens Knowledge Base for FAQ's and articles related to mobile ratings and all things Decision Lens. We know you'll enjoy this new functionality and hope you take full advantage of it.