What is PPBS?
The Planning Programming Budgeting System (PPBS), also frequently referred to as PPBE, is a resource allocation system that supports Department of Defense (DoD) Financial Management decision-making. It is one of three systems (Acquisition, Requirements, and Funding), supported by the Defense Acquisition System.
What makes up the PPBS ?
The First

Part of the System: Planning
PPBS planning is led by the Under Secretary of Defense for Policy, with a large role being played by the Chairman of the Joint Chiefs of Staff (CJCS) as the main military advisor to the Secretary of Defense, advocating for solutions to enterprise level requirements. Strategies are reviewed during PPBS planning to ensure that Defense Planning Guidance (DPG) created during planning aligns with Administration policy goals and other considerations. DPG informs what investments and divestments should likely be made and is used to help create the Program Objective Memorandum (POM).
The Second Part of the System: Programming
During programming forecasts are made on what the effects of today's decisions will have on the future. Leaders of each military service and defense agency develop a POM containing five years of suggested resource requirements for forces, manpower, and funding for each program. The POM informs programs in the Defense Plan by prioritizing and adjusting them as well as showing any associated risks in having certain programs be unfunded or underfunded.
The Third Part of the System:
Budgeting
The Comptroller or Chief Financial Officer leads budgeting. The military forces have to complete a Budget Estimate Submission (BES) for the first year of the fiscal year defense plan. The Office of Management and Budget (OMB) provides guidance to the Comptroller on the budget submissions. It is the Comptroller's responsibility to make sure submissions are appropriately funded and have the correct fiscal controls; that efforts are phased over the funding period; and that execution within the budget period is actually possible. The Comptroller analysts and service counterparts also review the budget requests to make sure that they are still in alignment with the unified defense budget. After all of this the Secretary of Defense can direct the services to make any necessary changes. Each December OMB receives the final submission and it is included in the President's annual budget request in Congress in February.
The Final Part of the
System: Executing on the PPBS
Execution is where the program's results are evaluated compared to its planned performance. Execution review happens at the same time as the program review and the budget review, which prioritize programs that best meet strategic goals while considering fiscal restraints and determine how much to spend on each program, respectively.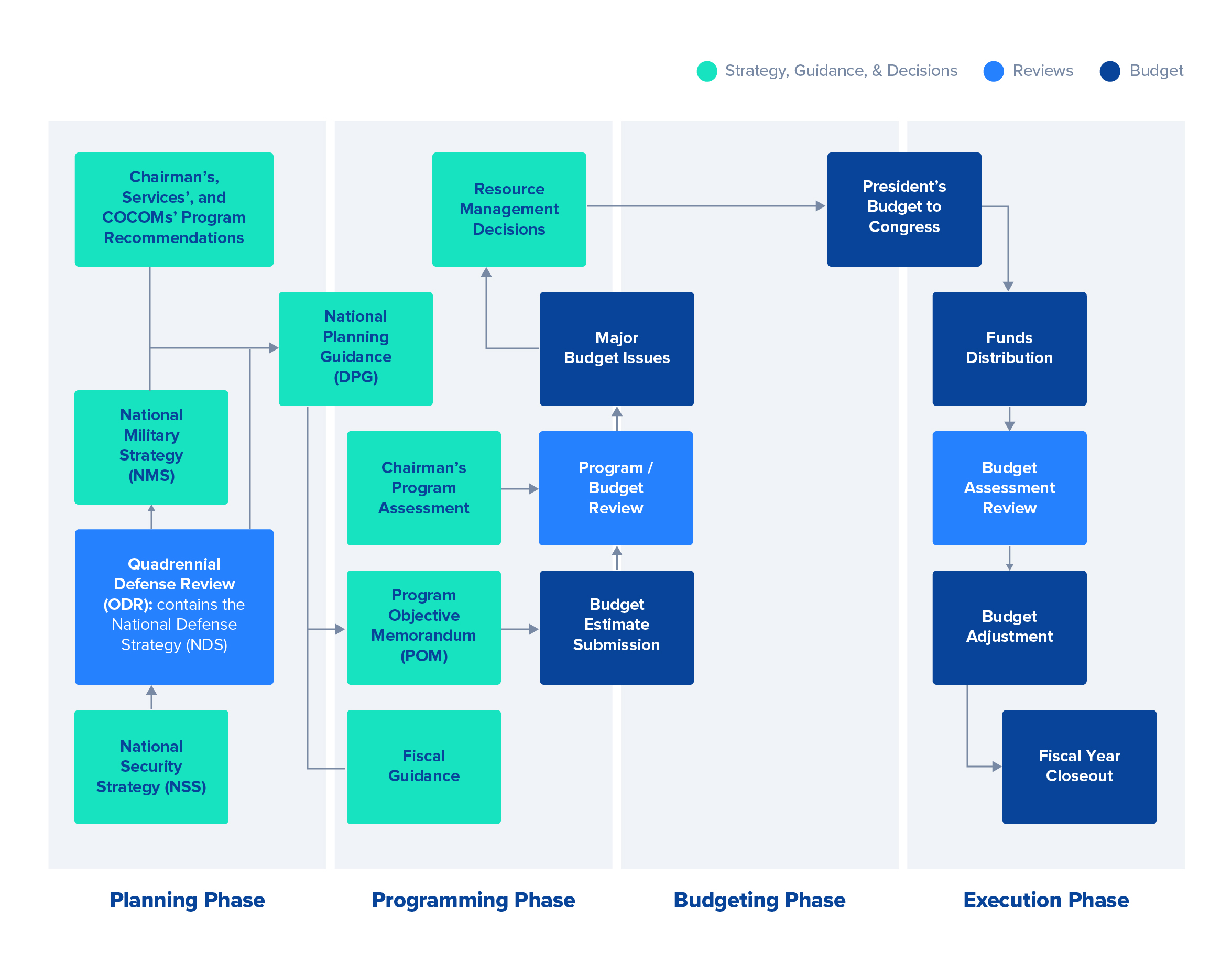 Who is part of the PPBS?
Research and Engineering USD (R&E) The DoD's chief technology officer is responsible for advancing technology and innovation for DoD and the military. This person must also advise the Secretary of Defense on all research, engineering, and technology, development activities and programs.
Acquisition and Sustainment USD (A&S) determines everything related to acquisition such as the system's design, development, production, upkeep, and gaining goods and services.
Personnel and Readiness USD (P&R) advises on everything force related; active and reserve military, civilian, and contract support. This also includes planning, necessities, readiness, workforce balance and diversity, applicable personnel policies, and healthcare issues.
Deputy Chief Management Officer (CMO) provides admin and managerial support to senior leadership and organizes business operations for the department.
USD(I&S) - Intelligence and Security advises on everything pertaining to intelligence, counterintelligence, security, etc.
DOD Chief Information Officer (CIO) advises on investments for cyber and information technology (IT), and on resource allocation for IT, including recommending any changes in IT investments.
Challenges with PPBS
Doing things "correctly"
Every year decisions are made on how to allocate billions of Federal dollars using the PPBS. But, there are many challenges with national security, restrictive budgets and Continuing Resolutions (CR), that make the process more difficult.
Many organizations focus more on completing projects on budget and on schedule and less on deciding whether projects truly align to long-term mission objectives. Here's a few steps government organizations can take to improve their PPBS.
Synchronizing Interests
Aligning priorities enterprise-wide can be extremely difficult when each organization has their own siloes and interests. This is why finding a way to align interests across the enterprise is vital to the decision-making process. Part of the lack of alignment is due to massive organizational bureaucracies. But, if interests are aligned then major investments can become aligned at all stages of the project lifecycle.
Too Much Time and
Everything is Always Changing
The processes in a given decision cycle are dynamic and an added challenge to making enterprise-focused decisions. The PPBS involves decisions being made, changed, and changed again as organizations adjust assumptions, and must quickly adapt to ever-shifting guidance from higher-ups. Reacting quickly can be difficult and requires a great deal of "employee churn." A one-hour update by a decision-maker can result in 100 hours of updating spreadsheets, collecting new data, aggregating that data into common formats, getting updated proposals from subordinate organizations, and PowerPoint presentations.
Modern Challenges
Budget constraints and inter-organizational competition are ongoing challenges. DoD tries to balance competing priorities, meaning that not providing the proper justification for funding may result in programs losing some or all of its funds. Continuing Resolutions create additional difficulty and uncertainty.
Seeing Change Management as an Opportunity, not a Threat
Change to processes and cycles requires organizational and sometimes enterprise-wide changes. Change management may seem daunting both at a collective and individual level.
But your organization already has the experience and expertise to make change happen at the enterprise level. It's important that your organization be transparent in its changes and for change to happen gradually. It's much easier to make a few small changes each cycle than to completely revamp the process all at once. It is also vital that managers responsible for interpreting leadership guidance are on board with the change and can provide their input.
How to Upgrade your Process
Changing your PPBS may seem terrifying, but there are tools that can help you automate, collaborate, and organize your organization's most important ideas and plans.
How can Decision Lens help modernize your PPBS?
Decision Lens has been helping Federal customers with these challenges for over 15 years. Our customers continued feedback inspires each iteration of our product. Our unique capability enables large organizations to create a clear organizing method for their decision-making processes. It gives leaders and subject matter experts one platform to offer their judgments on the decision. Decision Lens enables organizations to balance their resources when making hard investment decisions.
A Precise and Trustworthy Process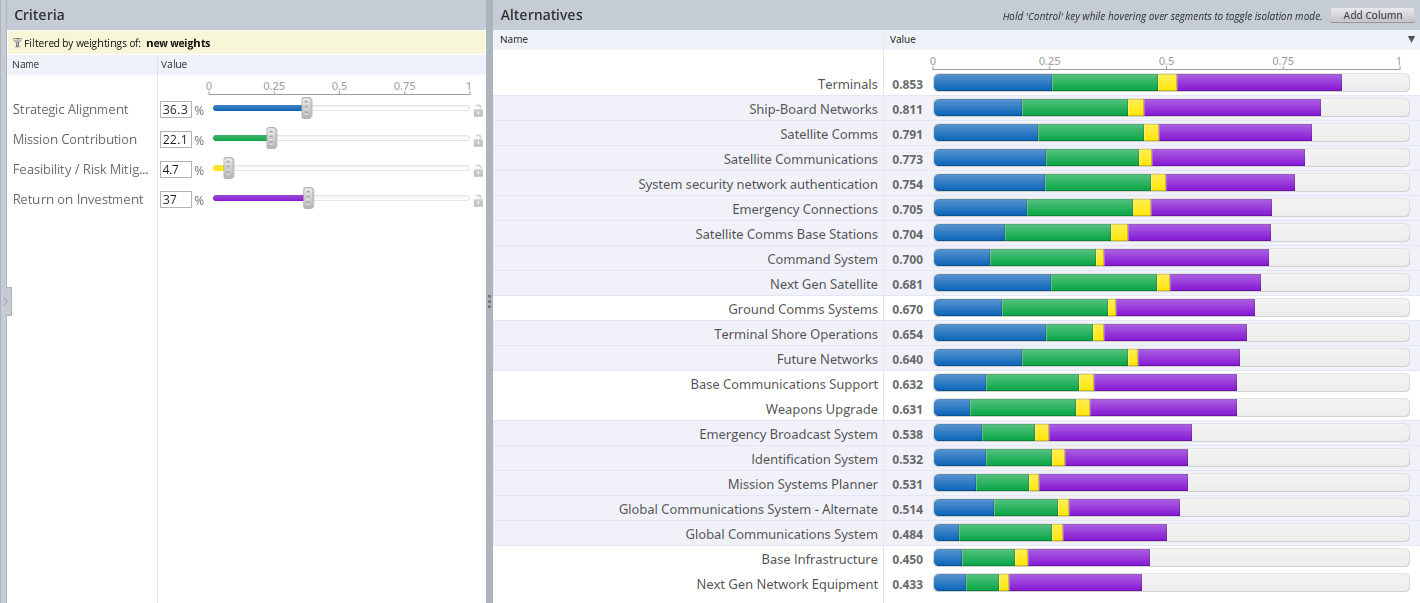 Decision Lens helps you to perform your PPBS duties with rigor and credibility. Decision Lens gives you the ability to score alternatives according to how they align your priorities, and helps you explicate how those alternatives match strategic goals, illuminating how you can get the most value per dollar in your budget.
Quick and Repeatable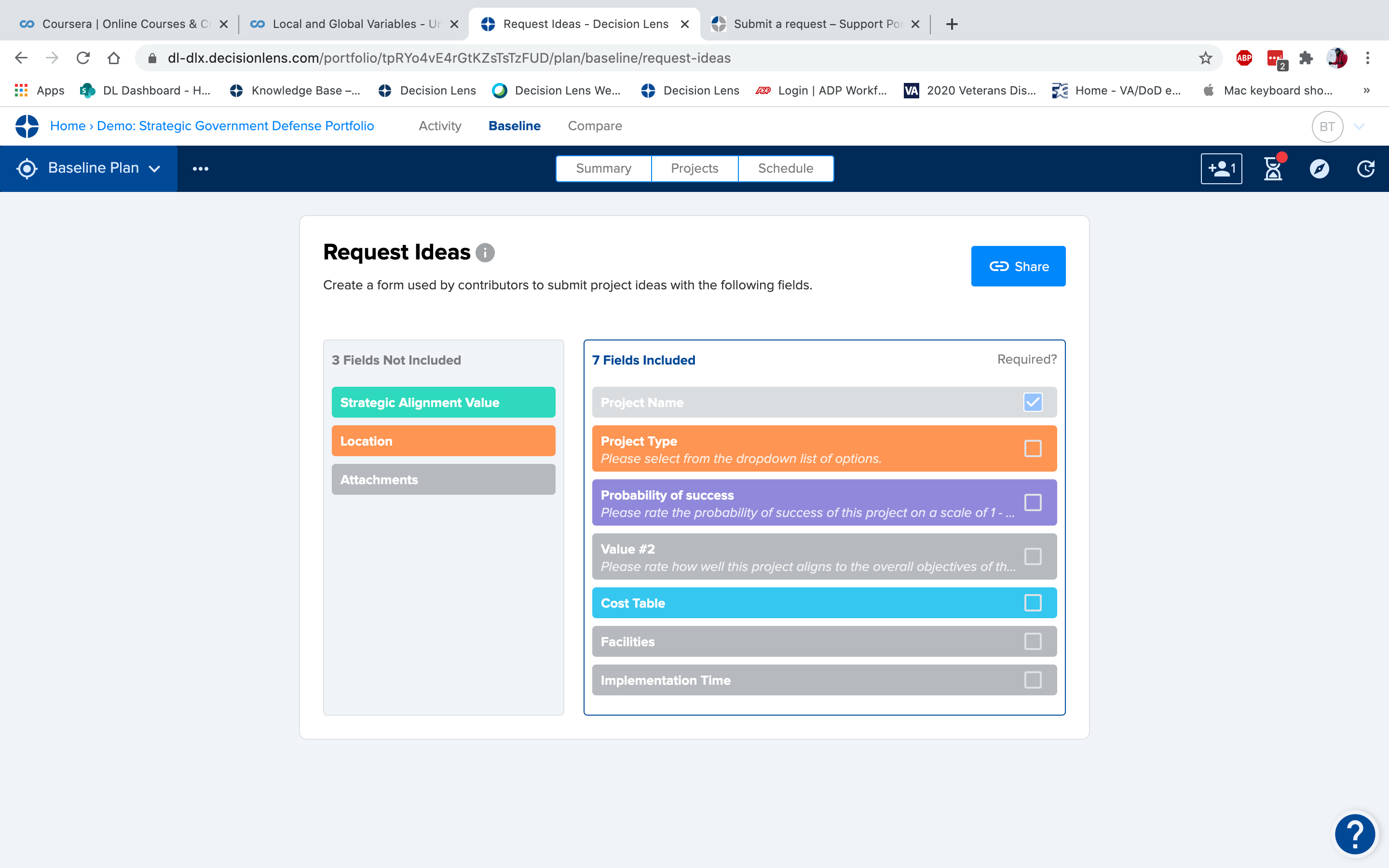 PPBS decisions are usually done on mediums that are difficult to collaborate on, aggregate, and keep updated, even though decision-making should be a collaborative process based on the latest data. Decision Lens helps this process by being repeatable and efficient. Decision Lens helps define your process and adds collaboration and analytics based on the latest data. This inspires confidence in results. Reiterate your process year after year and improve with each iteration.
Follow the Trail and Share with Others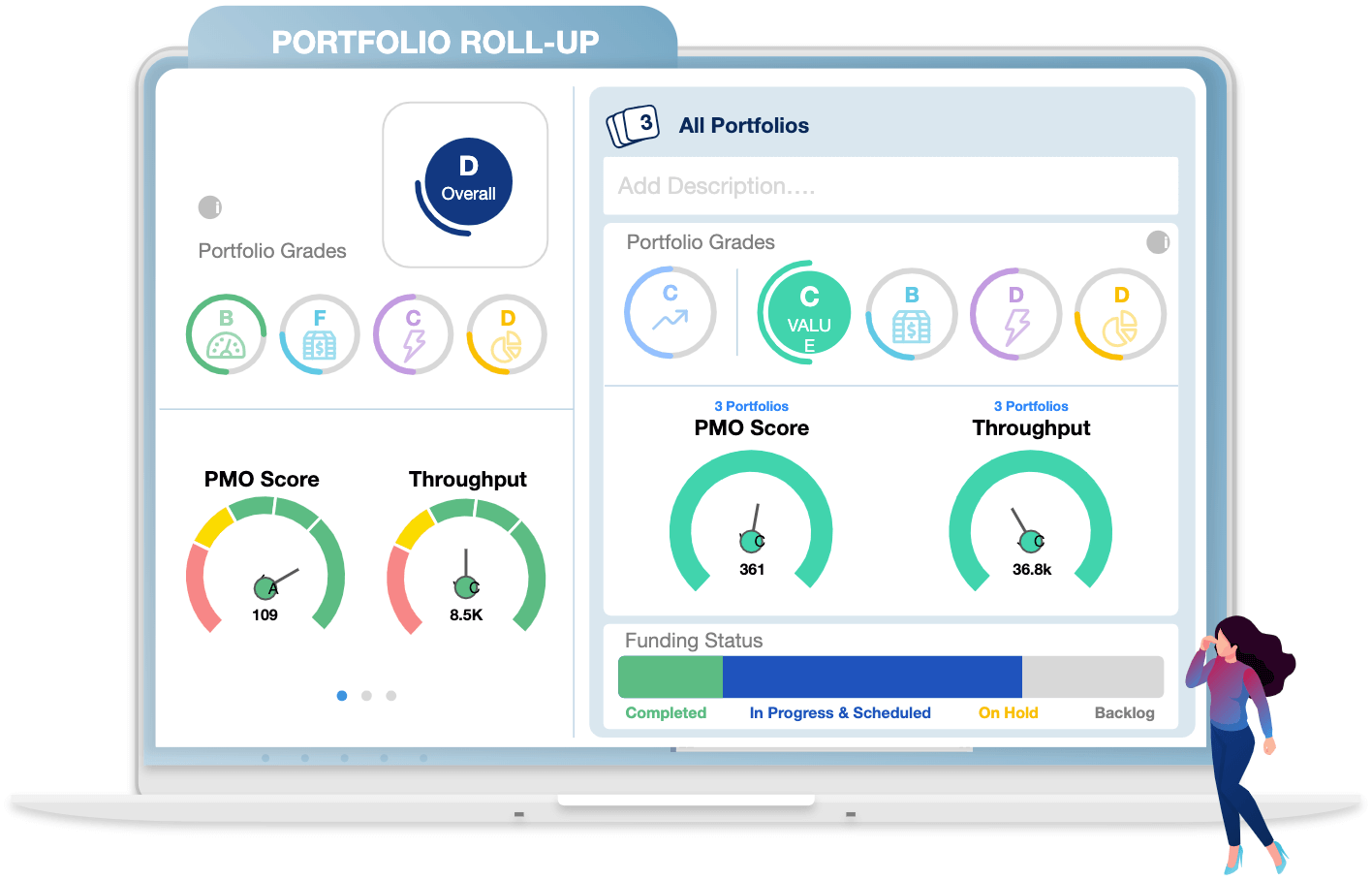 Decision Lens demonstrates how alternatives best align with your priorities, and why those priorities are considered the way they are. With Decision Lens you'll always know why a decision was made and will be able to justify it to leadership. The process makes there be less risk and gives more confidence and clarity to your decisions. You'll easily be able to see the benefits of the chosen alternatives.
How can Decision Lens help with your PPBS process? Request a Demo today!