As employees turn their homes into offices, and organizations look to fulfill their missions virtually, the need for better ways to work remotely has never been greater.

Not surprisingly, much has been said and written in the past few weeks about working from home. You can find videos, articles, info graphics, and other information on how to bring your work environment to the home office and stay productive. At Decision Lens, we have also tried to stay connected during these past weeks by making good use of an on-line group forum where photos, videos, jokes, and other comments can be shared.
Here is a photo my friend and colleague, Brent Peaden, posted in our forum. I'm sure some of us can relate.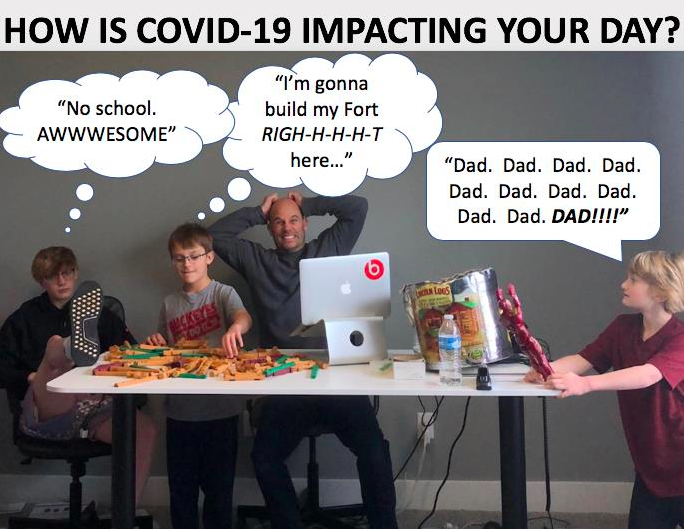 Staying connected with our customers is also important to us. That's why we've started weekly live forums, discussing a variety of topics around planning, prioritization, and resourcing challenges. I had the privilege of kicking it off with our first topic, Planning In A Virtual World.
The "Virtualization" of Planning

Just as this global pandemic requires us to work differently, it also requires us to plan differently. And it will force us to adopt better processes and tools for planning. Referring to the "virtualization of work," Deloitte Global CEO Punit Renjen recently wrote:
"Today, all around the world, businesses—and their talent—are learning to communicate, collaborate, and coordinate on virtual platforms, and understanding the increased efficacy and efficiency such modalities of work can provide. …These structural changes also may require you to alter your strategy and planning"
(The heart of resilient leadership: Responding to COVID-19).
All of us plan. And for many of us – whether in a leadership position, a PMO, a financial management role, or in some other planning function – a considerable amount of our time and effort is spent in organizational planning activities.
The Problem with Past Planning Methods

The current situation, as difficult as it is, presents an opportunity to revitalize our planning processes. While the fundamental building blocks of planning don't change, the tools and processes can and should adapt to new environments.
For example, until now many organizations have continued to use in-person meetings and manual spreadsheets as their primary tools for planning. This makes sense. Born out of environments where these were the easiest ways to plan, they became the standard. And moving away from them takes courage and effort, even a coordinated effort that is not for the faint of heart.

They have many flaws, however. In-person meetings, by themselves, create various cognitive and emotional biases in decision-making. Without structure and transparency, planning decisions resort to informal, personality-driven results. They can also be time-consuming and costly. And when assumptions change and adjustments must be made, in-person meetings can no longer keep pace.

Manual spreadsheets also have significant limitations. They perpetuate silos. The data you have to work with on these spreadsheets can be disconnected, incomplete, disparate and untraceable. There might be multiple versions of the same documents, hosted in different places, many of which might be out of date by the time you get access to them. We've all been there.

These past planning methods struggle to keep pace with the changes in our environments. As priorities shift and external forces create new pressures, planners have to make adjustments on the fly. New scenarios are difficult to build and slow to visualize. Scenarios must be built off of real-time, connected data so that critical, timely decisions can be made. Far from static and episodic, new planning processes have to be more continuous and dynamic. They require tools and processes that connect both people and data on-line in a fluid, transparent "virtual" environment.
A New "Virtual and Connected" Paradigm

Understanding the pitfalls of past planning methods, some organizations were already moving their planning to virtual, on-line platforms long before the COVID-19 crisis. But the current pandemic has created a forcing function and accelerated the need for new methods, tools, and processes across all organizations, no matter the industry or sector. We see this need among commercial customers in telecommunications and manufacturing industries, with State IT organizations, in Federal government agencies, and others.

Fortunately, technology provides a solution. On-line platforms enable a connected, collaborative, efficient planning experience. They bring all of your disparate data into one connected, collaborative, real-time environment. They integrate seamlessly with your existing data sets through out-of-the-box models (Excel, SharePoint, Google docs, Dropbox +) and customizable APIs. They give planners the information they need for true data fluency – so they can shape results.
Elevate Your Ability to Plan

The need for on-line planning solutions has never been greater.
We're now living in a world where a manual planning process is simply no longer a viable option. In today's environment, it is neither secure, efficient, nor collaborative. And it poses significant risks to businesses and organizations. Fortunately, the current environment we live and work in (while hopefully short-lived) will reveal new innovative ways to work and plan together.
Finding the right tools and processes in your organization will not only help you through today's virtual environment, but will elevate your ability to plan far into the future.


Want to hear more? Check out our video as we continued this discussion live!