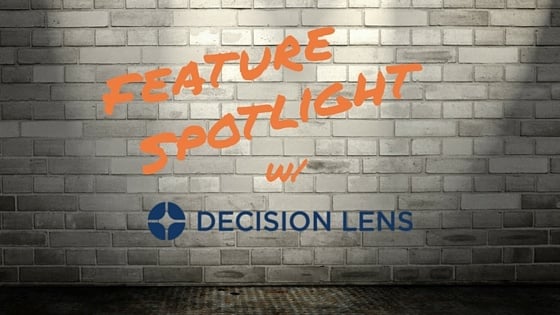 Oftentimes when planning your project pipelines you think your prioritizations are sound and you begin to feel safe. However, there are some instances where your organization needs to pivot and make adjustments to their valued criteria. This can then affect overall portfolio prioritization. Decision Lens provides organizations with the ability to plan ahead and navigate those turning points successfully.
"What-if" Scenario Planning with Decision Lens allows flexibility to re-prioritize your portfolio and receive real-time adjustments based on changes made to your weighted criteria. As you can see in the example below, this is your original prioritization.

Now, what if all of a sudden, "Project Risk Profile" (the purple bar) becomes the most important criteria. Say, your organization has had some projects become riskier than expected and identifying their risk profile ahead of time has become a need.

You can now see a real-time re-prioritized portfolio. You can see some projects have jumped double digits in rank and fallen double digits in rank based on how they individually stack up to the "Project Risk Profile" criteria. You are able to now save this as a scenario and compare next to your original to identify needed adjustments.
The "What-if Scenario Planning" tool gives you broader visibility and helps you adjust to different scenarios, making the best decision for you and your team clearer than ever before.