As a software developer with a great set of solutions for IT organizations, we spend a decent amount of time working with the Gartner Group. If you're not familiar with them, they're one of the leading IT solution analyst firms, offering research, ratings, and advice on many areas of improving IT. Recently, they published an article on CIO's FAQs About Governance. We may have worked on that title a bit, because it makes it sound a bit too dry for us, it's a pretty interesting read.

The premise is that while strategy and governance are paramount to an organization's success, most enterprises do neither particularly well. And with that in mind, Gartner is encouraging CIOs and other IT Leaders to start working on it right away by implementing the "minimum" form of governance, just enough to start getting healthier. And do you know what that "minimum" governance consists of? It mainly comes down to investment and risk prioritization. How will your organization deliver on all it is asked to while staying within budget and not exposing too much risk? That's certainly a tough question to answer. The article encourages prioritization at the Board level, at the IT leadership level, and then at the business level, all focused on one main goal: "determine the target investment portfolio and risk approach for the organization, and to prioritize the investment portfolio".
Hmm, that sure sounds familiar to us at Decision Lens, and we're quite pleased to hear Gartner leading the charge as well!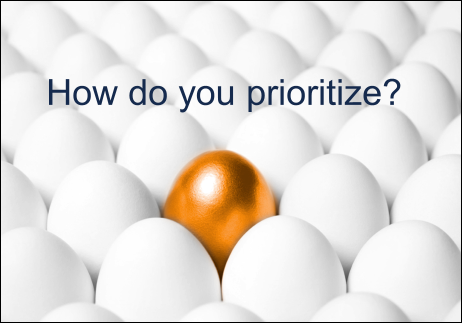 Check out the research from Gartner on IT Governance and Prioritization of activities here: http://www.gartner.com/document/2981717
(You may have to register, but the article is free and available without a subscription.)
What is your organization focused on currently for IT Governance? How do YOU prioritize your IT investments and resources? We'd love to hear!
And check out how Decision Lens gives IT leaders the power they need to make smarter prioritization decisions at it.decisionlens.com.