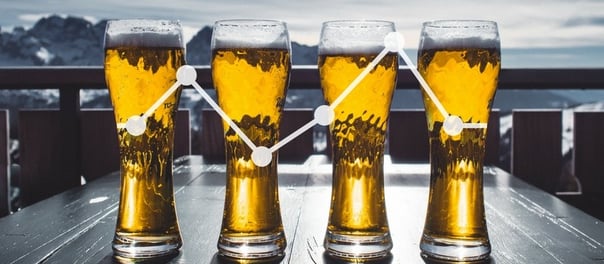 "I am a firm believer in the people. If given the truth, they can be depended upon to meet any national crisis. The great point is to bring them the real facts, and beer." – Abraham Lincoln
Beer is old. Very, very old. The oldest known recipe dates back 3900 years to ancient Sumer and strong evidence of beer in that civilization goes back 6000 years. While the beer of that time is certainly different than the beer we know (and love) today, its influence, importance, and popularity around the world make it nearly a $106 billion industry dominated by only a handful of corporations with small craft breweries gaining market share and favor amongst loyal followers.
Dog Days of Summer
With the hottest months of summer upon us, I set out to find what the go-to beer for Summer 2016 (with a little trouble along the way, read part 1 here) would be amongst a group of my coworkers here at Decision Lens. We all have different preferences and ideas of what makes a beer great to drink, so I narrowed the list down to 20 beers: the top 10 best-selling beers in the US plus 10 more from craft brewers and others, that while they may not be the best selling, are relatively common in supermarkets and local bars across the country.
So Many Things to Think About
After creating an initial set of criteria, the list was refined to:
Drinkability -

Appearance – Does the beer look good when poured into a glass? Is the color appealing? Is there enough or too much carbonation?
Aroma – Does the beer smell good?
Flavor – Does the beer taste good?
Refreshment Level – Does the beer satisfy your thirst?

Desirable Alcohol by Volume (ABV) – Does the beer have a desirable ABV, whether it be high or low?
Container Type – Does the beer have acceptable types of containers that meet the needs or requirements of specific places you could take it? (Beach, camping, parties, etc.)
Calories per 12 oz. – Does the beer have an acceptable amount of calories per 12oz serving?
Not surprisingly, Drinkability came out on top as the most important criterion (47.83%) when choosing a beer with Flavor and Refreshment Level children criteria both scoring well. Interestingly, in such a calorie obsessed world, Calories per 12oz was the least important criterion (skip the cake, have a beer!) while Desirable ABV and Container Type ranked 2nd and 3rd respectively.

A Window Into Your Mind
Ok, maybe not a window, but certainly some interesting findings emerged through our new Highlights feature. In short, Highlights bring forth interesting findings in your stakeholder input and give you an opportunity to gain immediate insights instead of sifting through data to find them on your own (pretty cool, right?).
Drinkability vs. Desirable ABV – One person believes Desirable ABV is significantly more important than Drinkability
Container Type vs. Calories per 12oz – One person believes Calories per 12oz is significantly more important than Container Type
Desirable ABV vs. Container Type – As a group, we had little agreement and low alignment
Appearance vs. Flavor – Everyone agreed that Flavor was more important but had different views on its degree of importance. Some thought it was VERY important, other thought it was only mildly important.
Aroma vs. Refreshment Level – One person believes Aroma if significantly more important than Refreshment Level
It was interesting reading comments and talking to people afterwards to understand their input. Everyone has their own view and judgements and to be able to visualize and analyze that data is beyond helpful, especially when you are taking on such an important task as this!
Stop Talking and Tell Us!
And the go-to beer for Summer 2016 is…
Guinness Draught! Scoring high marks against all of our criteria, especially Drinkability, Guinness comes out on top with New Belgium Fat Tire and Heineken ranking 2nd and 3rd respectively (you can see the full list below).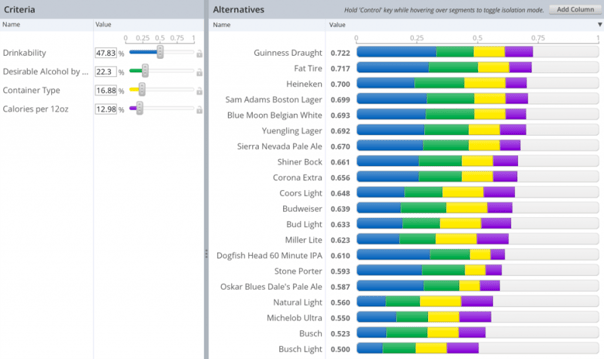 How did your favorite beer do? Does this ranking surprise you? Many times, what we perceive to be the best choice doesn't always come out on top. Whether selecting a beverage or IT projects to consider for your organization, bringing stakeholders together under a common framework helps you select your highest-value items. As always, please drink responsibly and if you have any questions, don't hesitate to reach out.