Decision Lens had the pleasure of being a first-time sponsor of the 2015 Gartner Symposium and ITXPO last week in Orlando, Florida. And let me tell you, it was something to behold. This is really a big event. I mean, it's HUGE. More than 10,000 people from across the world take over the Disney Dolphin and Swan Resorts for 5 days to talk about the big topics in IT and what the trends are that will affect it in the coming years. (Side note: The only bigger events I've ever seen are Oracle OpenWorld and SAPphire, each of which took over the entire city of San Francisco in their hay-day.) Gartner and Disney do a great job managing the hordes of people and making it effective. There's content there for every industry, every problem, and every situation across the IT landscape.
With hundreds of speakers and sessions, the topics were, of course, all over the place, but two of the biggest themes were about the continued rise of Digital and the need for you to find the Algorithms in your business to automate and take advantage of the Digital opportunities in front of you. The keynote speakers and Gartner analysts all focused on what Digital changes mean to each industry and each IT functional area, giving lots of actionable guidance to attendees. And the guest speakers were on-message as well: it was quite interesting to hear the thoughts of the CEOs of tech giants IBM and GE to realize that even the big guys are thinking about the same topics and helping solve the same problems.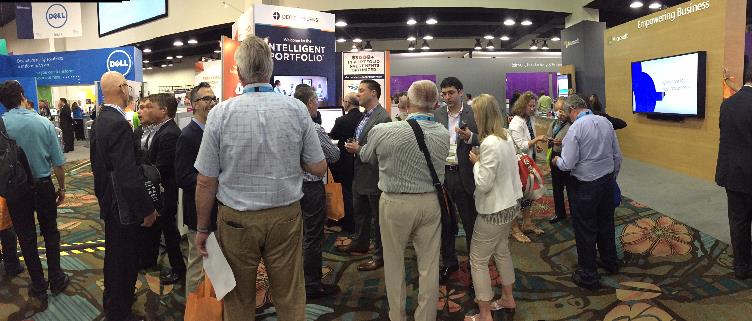 As a first time sponsor, we were on high alert to make the most of our investment and to soak in all we could. We met hundreds of folks from all industries – Manufacturing, Public Sector, Education, Finance, etc. – and left even more excited by the power the Decision Lens platform brings to the table. At the end of the day, Decision Lens solutions make it possible for organizations to be more agile and flexible and to take advantage of the Digital opportunities that are presented to them, right WHEN they come up. Our users can move resources and investments on a dime, and that agility is a priceless quality for an organization. And people are starting to notice… We were mentioned during Gartner analyst Daniel Stang's presentation on the PPM market as one of few solutions focused on true portfolio-level strategic planning.
It's an exciting time here, to say the least. Think about joining us at Gartner Symposium 2016 next year!