Is there a greater source of virtual drama than selecting the 4 teams that will compete in the College Football Playoff (CFP)? Without a consistent set of opponents, head-to-head matchups, or any other perfectly objective set of data, voters are forced to inject their opinions and pick the data that they care about. The CFP Selection Committee itself admits "Ranking football teams is an art, not a science." We don't necessarily disagree, but Decision Lens wanted to see if we could inject our own brand of science into the prioritization decision.
So we used the Decision Lens prioritization platform to create a decision model to rank the top teams against a limited set of criteria that generally follow the committee guidelines: victories, strength of schedule, conference championships, wins over ranked opponents, losses to non-ranked opponents, and voter judgment.
Our initial rankings completed as of December 4, 2015—before conference championship games—resulted in a few findings that the committee would likely have a hard time defending publicly. Two two-loss teams—Stanford and Notre Dame—would make the playoff, while undefeated Clemson and Iowa, and a host of one-loss teams, would be on the outside.
Decision Lens College Playoff Rankings – All Criteria (excluding Conference Championships)
December 4, 2015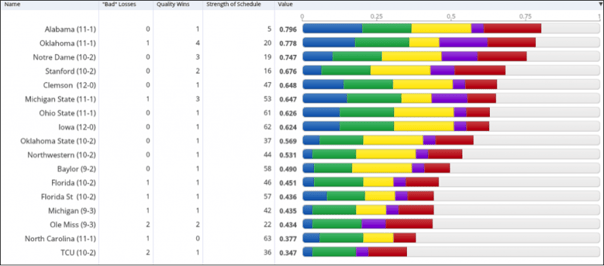 How do we justify this outcome of the model? First, Notre Dame and Stanford both claim strength of schedule rankings (using Sagarin ratings) that are significantly higher than those of schools ranked below them. Stanford and Notre Dame also claim multiple quality wins (over CFP-ranked opponents), where most other schools have just one.
Notre Dame's case is particularly interesting in that it is arguably two plays away from 12-0. But the Fighting Irish also "escaped" with closely contested wins against Temple, Boston College, and Virginia. In our model, style points do not matter, so Notre Dame benefits for playing a tough schedule and winning when it should.
Stanford, with wins over Notre Dame and ranked USC, and a strong strength of schedule noses ahead of undefeated Clemson, which has played a weak schedule but did beat Notre Dame, and Michigan State, whose controversial loss to Nebraska costs it a spot in the top four.
Tangible metrics aside, how do our voters feel? The chart below gives a set of rankings that much more closely aligns with what the committee produced during the week of December 1. Our voters seem to indicate that they expect Michigan State to beat Iowa in the Big Ten championship game, while Alabama and Clemson hold serve in their conference title matchups. Notre Dame and Stanford are not considered playoff worthy.
Decision Lens College Playoff Rankings – Voter Rankings
December 4, 2015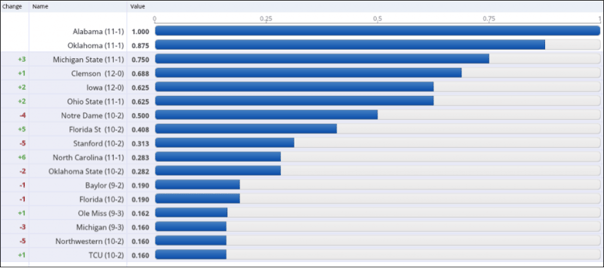 We will re-examine our rankings next week after the conference championships have been award in the Big Ten, ACC, SEC and PAC-12. This will certainly shuffle our rankings.
By: Bela Barner, Decision Lens Client Manager