Have you been in this situation? On Monday leadership asks for a Friday presentation. There are many moving parts, manual processes, stakeholders playing different roles, etc. There's often an abundance of data, version control issues, data quality being compromised or incomplete fields as workers attempt to reconcile multiple sources of data to a single location. What's more, by the time Friday rolls around and the presentation is made, the data pulled at the beginning of the week is no longer up to date, rendering it less useful for making decisions.
Across the DoD, many organizations rely on manual processes to get through the below steps. Gaps between the data and line of sight to strategy can cause disconnected processes and distrust in the results.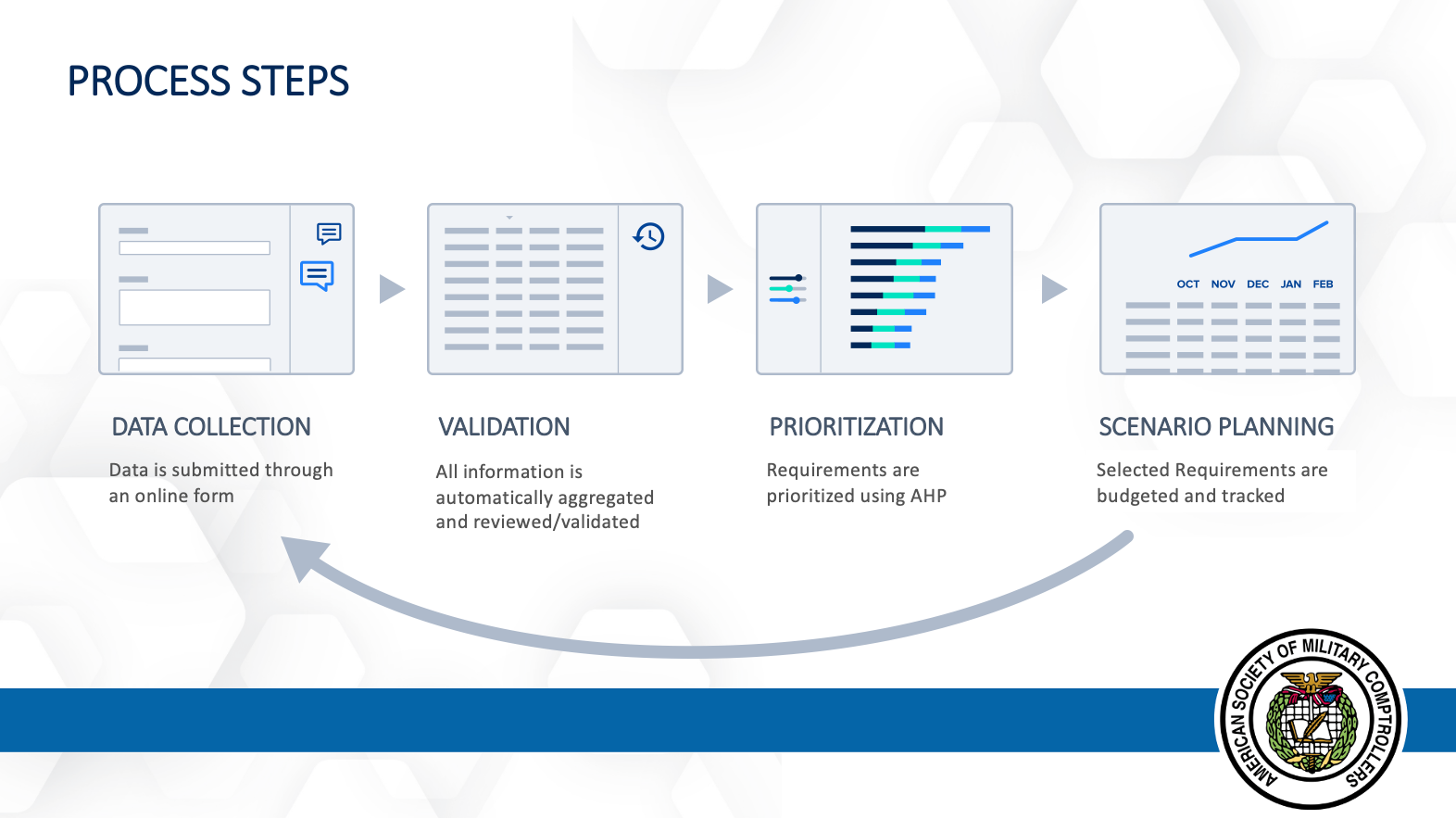 The PPBE process is disconnected and siloed. Information gathered for the POM is not always connected to budget year data. Anything used for formulation doesn't carry over into execution, so comparing the plan to actuals is not easy. The list of challenges goes on and on, but issues in the process are usually a result of three major gaps:
Many organizations live in a disparate decentralized environment.

Changes occur from the time the data is pulled and reconciled to when it is presented.

There is a disconnect between operation and the strategy. As information moves further and deeper into a workflow the line of strategy becomes less clear.
Despite these difficulties many in DoD are looking for ways to mitigate these gaps and improve the process.
The Evolution of AFSOC's POM Process
Since 2008, AFSOC's Strategic Planning Division has been working to establish processes and tools that could fix perceived shortfalls in the process. These shortfalls included changes to address a reduction of manpower required to accomplish a task, to simplify submitting issues and to register scoring. However, Robert "Bob" Norene, HQ AFSOC A8X Strategic Planning Division Air Force Special Operations Command (AFSOC), says that while some of the shortfalls were fixed, decision-making was often still a room of senior leaders pushing for their individual causes.
"Programming needs to be tighter and better done," Norene said.
Norene said there was a gap in the POM and PPBE process because every group was working from disparate databases, which led to a lack of collaboration. Wings were located in Wings databases. HQ was in the HQ database. Five years ago, AFSOC began merging those databases, but results were limited and progress was slower than expected.
The big push for change came from NDS and DoD strategies that placed more emphasis on data management and analytics. This led to leadership wanting more rigor in the process, to be better informed throughout the process, and to collect more data.
They had three goals to mitigate their gaps:
A more collaborative process where everyone was using the same tools

Better transparency so that everyone knew what everyone else was doing.

To have everyone working from the same base of knowledge.
AFSOC partnered with Decision Lens to help them reach their goals of first having a more accessible and transparent system, so that as the programming phase occurred and priorities shifted decisions could be well defended and justifiable at higher levels.
In the future, Norene hopes to bring the programming and execution pieces closer together and to build a live database instead of relying on cyclical iterative processes to collect, prioritize, and process the requirements. His vision is to have a current database where information can be "snapshotted" as needed so that when decisions and resources need to be defended they can be accessed quickly.
"This level of data we want to accomplish is difficult," Norene said "We are constantly growing our system as we go."
The Evolution of TRADOC's PPBE Process
TRADOC had similar gaps and began an evolution of their process in FY19. At the MCoE they had just 3 weeks to validate requirements, which made it difficult to look at each of their 1000 requirements in detail. The requirements weren't well built out and it was difficult to make a good judgement as to whether the list was valid. The process was not very collaborative, and validation was not accurate. The situation came to a head when leadership said they had no confidence in that year's budget decision.
Rod Hardy, Army TRADOC G3 Resource Integration Officer (RIO) Plans Division, MCoE G3Army Training and Doctrine Command (TRADOC), said his group was tasked to go back and create a collaborative, accurate, and transparent process. Here are the changes they made to achieve this:
Collaboration: They sought more guidance on requirements from the beginning of the process, and established checkpoints along the way to ensure guidance was properly being met, and that any changes to the guidance could be accounted for, so that the best recommendations could be made.

Accuracy: Though G3 is responsible for the 1-n list, many G-staff budgets are involved in the process. G3 took on a facilitator role in the process as all G-staffs were involved to look at the requirements and ensure their correctness

Transparency: They decided to utilize tools like Decision Lens that allowed for all activities to be documented throughout the process, so that commanders could be aware.
These changes led to a huge reduction in collection time and a longer time period dedicated to validation. However, G-3 still needed a way to prioritize 1000 requirements and create a 1-n list.
"We used both science and art to do this," Hardy said. The science was utilizing automation tools to speed up collection and prioritization. The art part of it was that human touch of massaging the initial list based on leadership priorities. These changes allowed them to direct more of their time and energy towards validating the data.
"The validation is very important to MCoE. If we don't have good validation, we don't have accurate data." Hardy said. "If we don't have accurate data, then our commander lacks confidence in making the decision."
Lessons Learned
Norene said AFSOC follows a standard process for military organizations, where lower echelons work through the corporate structure until it reaches the final commander decision.
From their process there are several best practices he recommends:
Merging databases so they were all working from a single source of truth, which also resulted in better validation of the data when it came time for group review.

From there they wanted to home in on what criteria and guidance the commanders would need.

They love the dynamic visualization provided by Decision Lens that they could present to senior leaders, showing how the ranking was made based on the criteria and guidance.
Norene said the ideal state would be for the metrics and criteria to generate the same prioritized list as senior leaders would create.
Hardy said TRADOC recognized validation of data was the most crucial part of their process and where they should spend most of their time. In upgrading their processes, they learned:
To structure engagements more. After collecting feedback and requirements they go into the validation stage where they look at the requirements and interview all 44 activities to do a deep dive into truly understanding the requirements.

To have a more manageable list of requirements. By reducing the number of requirements from 1000 to 500 they can more easily see whether requirements are valid.

Leadership buy in is key to changing your process.
"It's important to bridge that gap between the data and what decision you are trying to make," Hardy said.
These insights were derived from a 2021 ASMC Data Analytics and Decision Support Conference session, entitled, "Bridging the Gap Between data and Decisions: How to Collect, Organize, and Categorize the most Relevant data for Better Scenario Planning and Decision Making." This panel featured Robert "Bob" Norene, HQ AFSOC A8X Strategic Planning Division Air Force Special Operations Command (AFSOC), Rod Hardy, Army TRADOC G3 Resource Integration Officer (RIO) Plans Division, MCoE G3Army Training and Doctrine Command (TRADOC), and Brent Peadon and Dr. Alison Denton from Decision Lens.
Want to learn more about how Decision Lens is helping DoD organizations to evolve their processes and make better-informed budget decisions? Request a demo of our software today!