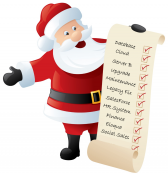 Twas the week before Strategy Day, and all through floor
EVERY creature was stirring, with chills to their core!
The deadlines were set with many months to spare
In hopes that teams would submit ideas with care.
Portfolio owners were glued to their laptops with glee
With visions of the bubble charts they did hope to see.
The Planning VPs came out of their meeting,
Having now settled down on NOT just spreadsheeting!
For this was the year they took strategy seriously,
Bringing in all the data to make choices analytically.
Away with Excel and the yelling and clatter,
They sprung to the power of Decision Lens software!
Now they would have all the data to get,
To look at scenarios right there while they met!
No longer having to wait weeks five or six,
To understand what a decision predicts!
The portfolio owner beckoned all to take part,
To ensure that the outcomes would be works of art!
"Now Finance! Now Products! Now Sales and IT"
"On Directors! On VPs! And on Suites of C!"
After deadlines had passed and submissions were floated,
Portfolio leaders collected ratings and voted.
A value model built quick as PB and jelly,
That chimed when it moved, like a bell on the telly!
The best of the best looked at trade-offs and sliders,
To analyze just where the value may be hiders.
And trying to find those redundant projects,
Meant inefficiencies and problems would all get the X!
With analysis done and scenarios preened,
It was time for portfolio owners to share what was gleaned.
They gathered together with stakeholders galore,
To show off all the waste that would be nevermore!
The CIO was there too, a rather snarky young lady.
Everyone cringed when they saw her, in fear she would hate it!
But with a wink of her eye and a nod of her head,
They knew she was engaged and had nothing to dread.
She spoke not a word, paying full attention,
While her team went through each and every decision.
As they got to the bottom, it became incredibly clear,
They'd found MILLIONS in waste they made disappear!
She sprang from her seat, to her team a high five,
And away they all ran, feeling really alive!
And with that we exclaim, at the top of our voice,
"Happy Planning to All, and to All a Good Choice"!
Happy Holidays and a Happy New Year from YOUR best choice in Portfolio Prioritization, Decision Lens!