The second annual College Football Playoff is nearly upon us as the regular season ended last weekend. While the national media is largely focused on the (farfetched) scenario that three Big Ten teams might lay claim to a playoff slot, the more intriguing scenario is if Clemson (11-1, #2 CFP) and Washington (11-1, #4 CFP) each lose in their conference championship games. This would leave only Alabama and Ohio State as the two power conference teams with less than two losses, all but ensuring that two two-loss teams make the playoff (all apologies to Western Michigan fans).
In this scenario, the committee would face the quandary of selecting a pair of two-loss teams from a scrum that would include Clemson, Michigan, Washington, Colorado, Penn State or Wisconsin, and Oklahoma (reasonably assuming they beat an overrated Oklahoma State in the Bedlam game).
The committee has insulated itself a bit thanks to the stickiness of its rankings and its incremental approach to reordering teams late in the season. Alabama (#1) and Ohio State (#2) are in. If Clemson (#3) or Washington (#4) loses, the door opens for Michigan (#5) to slide into the top four. The winner of Wisconsin vs, Penn State (at #6 and #7 respectively) would almost certainly ascend one slot. Colorado (#8), even with a win over Washington (#4), would likely ascend no higher than #5. Oklahoma (#9) and Oklahoma State (#10) are pretty much locked out of the playoffs.
Does the committee have it right? Are today's top four truly the most deserving teams right now? And what should be the playoff foursome if the committee is confronted the aforementioned stew of six two-loss teams vying for two slots?
Decision Lens can bring some clarity to the nation's second most scrutinized selection decision for 2016 (the first one occurred in early November). Last year we created a model to rank the top teams against a limited set of criteria that generally follow the committee guidelines: victories, strength of schedule, conference championships, wins over ranked opponents, losses to non-ranked opponents, and voter judgment. Our model performed quite well in its first iteration, suggesting that Alabama, Clemson, Stanford, and Oklahoma be awarded playoff slots. Alabama pummeled Michigan State in the first round before narrowly defeating Clemson in the title game, while Stanford proved its mettle by demolishing Iowa in the Rose Bowl after Iowa had narrowly lost to Michigan State in the Big Ten title game. Based on these results, the committee would have produced a better playoff had Stanford been awarded the final slot over Michigan State.
But enough of patting ourselves on the back. Time to focus on the matter at hand. We dusted off our model and loaded up the data with results from the 2016 regular season. Our first set of rankings, representing each team's body of work during the regular season, strongly agrees with the committee rankings published on November 29. Alabama and Ohio State are top dogs, followed by Clemson and Washington. If Clemson or Washington should lose in their conference championship games, the playoff door should open for Michigan. Or should it?
Decision Lens College Playoff Rankings
Criteria Weighted by Voters
November 30, 2016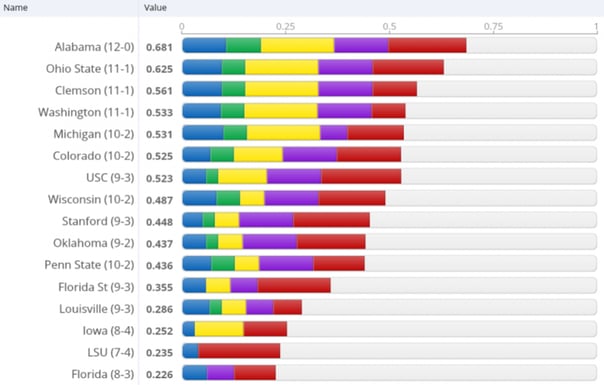 A few points worth noting. The committee is wise to recognize Ohio State's outstanding season despite its loss to Penn State (a game that turned late on special teams). Its resume is comparable to that of Alabama. More importantly, these two teams demonstrate a clear preference over #3 Clemson, which also boasts three quality wins (Auburn, Florida State, Louisville), but a much lesser strength of schedule score.
However, things get murky after Clemson, with Washington, Michigan, Colorado and USC all within close proximity, and Wisconsin lurking. We feel that the committee undervalues an impressive season by USC, which lost in ugly fashion early to Alabama and Stanford, but rebounded to defeat Colorado and Washington. Also, Colorado deserves a better fate than being stuck #8 in the CFP poll, which will make it very difficult for it leapfrog four teams to gain a playoff slot that it may well deserve if it defeats Washington in the PAC 12 title game.
So what should happen if Colorado defeats Washington for the PAC-12 title? The ranking below examines a scenario where Colorado, Alabama, Wisconsin, and Oklahoma win their conference titles and Clemson loses to Virginia Tech.
Decision Lens College Playoff Rankings –
Colorado, Wisconsin, Oklahoma Win Conference, Clemson Loses
Criteria Weighted by Voters – Includes Conference Title Game
November 30, 2016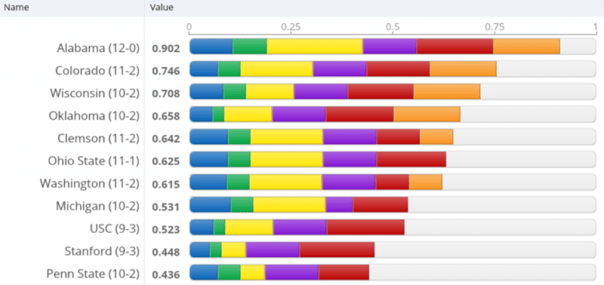 Suddenly, Colorado presents a very strong case for a playoff slot, leapfrogging four teams to #2 in our ranking! Also, Wisconsin elevates to #3 and Oklahoma to #4, displacing Ohio State and Clemson in the playoff picture. Without another game to play, Michigan is unable to ascend.
This reversal seems pretty drastic, and we believe our model overemphasizes the impact of the conference title game. It is safe to say the committee will not drop Ohio State from its #2 position without it playing a game. But if this principle holds, should Michigan be able to ascend in the committee's ranking when it also does not play?
Thankfully it's very easy in Decision Lens to modify your assumptions and examine new scenarios. In the scenario below, we eliminate the Conference Title Game as a criterion, but reward conference title game winners via the Quality Win criterion (title game winners Colorado, Oklahoma, and Wisconsin add to their score here).
Decision Lens College Playoff Rankings –
Colorado, Wisconsin, Oklahoma Win Conference, Clemson Loses
Criteria Weighted by Voters – Exclude Conference Title Game
November 30, 2016
This scenario seems more plausible as Ohio State and Alabama remain clear favorites. Colorado is rewarded for its impressive season capped by a victory over the CFP's #4 team, and Clemson retains a playoff spot on the strength of its regular season. In our model, Michigan's loss to an improving but unranked Iowa team proves costly, while Wisconsin's very, very good season isn't quite good enough. Had it beaten Ohio State at home in overtime, it would edge Clemson for the final slot, and Big Ten fans would be agog over 1) having two teams in the playoff; 2) not having three teams in the playoff.
Obviously, this is all conjecture. But the fun is just beginning. This weekend should be very telling, and we will revisit our rankings next week!